28 February 2023
Sarah - Digital Business Manager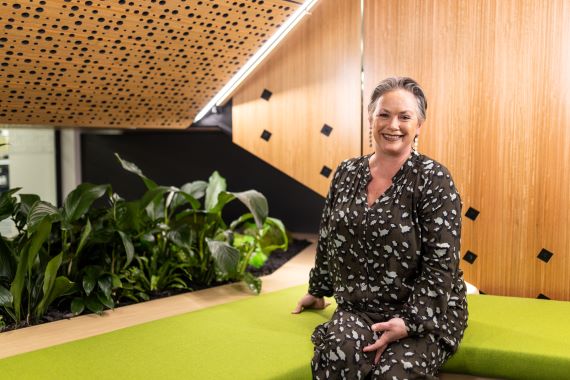 For Digital Business Manager Sarah, one of the things she values about working for Ara Poutama Aotearoa is the opportunity to work towards something tangible and meaningful.
"I really love the fact that the vision for Ara Poutama Aotearoa is so clear and measurable. Reduce recidivism and reduce the Māori prison population. Focus on reintegration and rehabilitation. The whole waka is behind this vision and goal and even if I'm only a small part of supporting the wider business, I feel like my work is making a difference and I'm giving service to my community."
As the Digital Business Manager and the acting Customer Service manager, Sarah manages five teams with a diverse range of skills, capabilities, and responsibilities. She says she mainly sees her role as an enabling and supporting the Chief Digital Officer and the delivery and production support teams.
"[This involves] keeping them safe, ensuring they have the resources they need to do the work and ensuring that the public's money is invested wisely and that we are getting the benefits we are seeking.
A typical day is usually made up of meetings, emails to respond to, some documents to review and provide feedback and/or some documents of my own to write - memos for approvals type of stuff.
Basically, I spend my day trying to help people, clearing obstacles or providing guidance and advice and working with smart people to solve complex challenges."
She says that one of the most interesting projects that she's been able to work on recently has been a piece of work partnering with the Talent and Organisation team to look at ways to support professional development and career progression within the Digital team.
"We're aiming to identify and develop our career pathways within Digital and provide better visibility of the vast array of tools and resources that are available to our team to support their professional development."
Sarah says that she initially joined Ara Poutama Aotearoa because she wanted to work for an organisation that was making a difference to New Zealand.
"The goal of keeping communities safe and changing lives really resonated with me."
Three years into her role, she says that one of the things that she enjoys the most is working with others who share this passion.
"My favourite part of the role is working with smart, talented people who really care about making a difference."