27 September 2022
The unexpected benefits of nursing in prison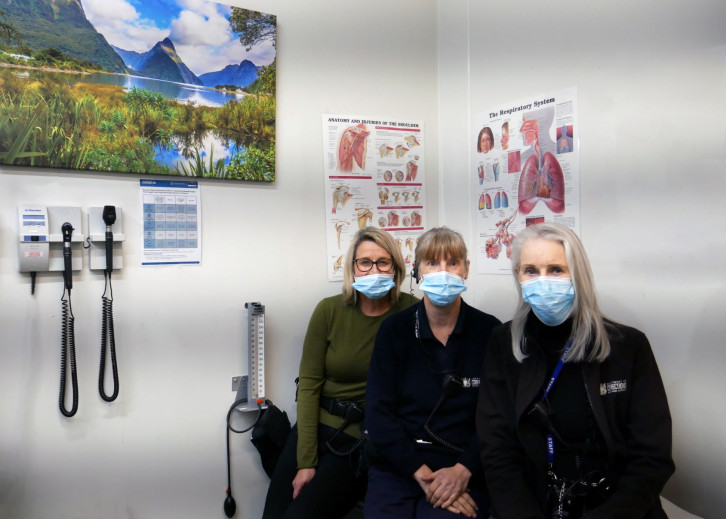 At a time when recruiting and retaining Registered Nursing staff is challenging across the health sector, Christchurch Men's Prison (CMP) is seeing a number of nurses returning to work in the prison.
Since 2020, CMP has welcomed ten former nursing staff back to the health team, including five full-time and five casual staff, making up just under half of the Prison's overall nursing team.
"It's been great to see staff wanting to stay connected to our team, and just goes to show how fulfilling nursing in prison is," says CMP Health Centre Manager, Liz Whiteford. "We have a great team environment, using the values of manaakitanga (care and respect) and whānaungatanga (kinship and a sense of family)."
Of the nurses interviewed, their main reasons for returning were the autonomy of working in a prison environment, workplace safety and flexible work arrangements.
Registered Nurse Isla Taunoa, left Ara Poutama Aotearoa – Department of Corrections for four months, before deciding to return to CMP.
"Even though I enjoyed my role nursing at a mental health hospital, I began to miss the variety and challenge of nursing at Ara Poutama Aotearoa," she says. "Specifically, the clinical acuity of working comprehensively, and the nurse-led clinics that I had become accustomed to."
Jillian Sargeant is another returned nurse, who also appreciates the flexibility of working in prison. Having worked in nursing for 13 years, Jillian is returning for her eighth year at Ara Poutama Aotearoa, after 16 months in other workplaces.
For Jillian, the most meaningful part of her job comes from working in the Receiving Office, helping support men when they first arrive in prison from court or Police custody.
"I find it really rewarding to try and make their transition easier and delivering patient education where I can. In some cases, it's the first healthcare these men have had for a very long time – if ever – and you can make a real difference to their lives."
Health Centre Manager, Liz says that working at Corrections brings unique benefits like having the opportunity to connect with regular patients, and staff appreciate having an organisational focus on reducing health disparities, through the Department's overarching strategy, Hōkai Rangi.
"Ara Poutama Aotearoa is working really hard to bring in initiatives that bridge disparities in Māori healthcare," says Isla. "That includes the employment of a Chief Māori Health Officer and a team of strong Māori advocates at the national and regional levels, working to incorporate a Te Ao Māori worldview. It's really encouraging to see and is something I really value being part of."
Assistant Health Centre Manager Jill Hibbert, who returned to CMP after two years working in various hospital roles, strongly values the empowerment she feels nursing at Ara Poutama Aotearoa.
"As a nurse in a prison environment, you get an amazing variety of work, including the autonomy to do things like prescribe Standing Orders and manage your own workflow."
Safety was also at the forefront of the nurses' minds, and another key consideration for returning.
Isla says that while many people worry that nursing in prison is a more dangerous environment, she feels the opposite is often true and the focus on safety at CMP is appreciated by nursing staff.
"Safety is paramount for Corrections," she says, "and when I left, I missed the security I felt in prison, with officers near or with me when working in the units. At the end of the day, all of our team get to go home safe and sound to our whānau."
Jill agrees, "when thinking about working in prison, everyone's first concern is often safety, but from my 13 years' experience nursing, I've found it a very safe environment."
A third reason cited by the nurses was the work hours and flexibility offered.
Jill says she greatly appreciates the flexibility she has at CMP. "The joy of being in a small nursing team is that it's easy to swap shifts, thanks to our supportive management. If you have something on, they can usually accommodate it – and best of all, there's no night shifts! That's a huge draw card."
Jillian agrees, "all of our managers appreciate that we have a life outside of work."
This includes her taking time off to do aroha mahi (volunteer work) with the New Zealand Defence Force.
For Deputy Chief Executive Health/Hauora, Dr Juanita Ryan, the success of nurses returning to work at CMP shows the positive impact of the organisation's Hōkai Rangi strategy, and the strength of its health centre teams.
"Our nurses are an exceptional team with a wealth of diverse experience that gets put into practice every day. They often care for people who arrive at prison in poor health, growing relationships with them to address their long-standing health needs and change their lives."
"It's not your everyday nursing, and I'm so thrilled to be part of a team who have shown such incredible rangatira (leadership), passion and clinical experience in such trying and unprecedented times," she adds.
For anyone considering a career in nursing at Ara Poutama Aotearoa, the team at CMP highly recommend taking the leap into the prison environment.
"If you like a bit of excitement in your day, and to be challenged in a safe environment, it's a great job," says Jill. "You never know what you're going to get in a day, from colds, scrapes and earaches, to more serious injuries or addressing longstanding health issues. You also learn so much from the nurses around you – their experience becomes your experience."
Isla agrees. "We have a brilliant team of nurses here at CMP, who work hard to achieve best practice outcomes for our patients. I feel well supported and am very content in my nursing journey at Ara Poutama Aotearoa," she says.
Ready to make a move?
Start your journey - check out the a list of our current opportunities then apply online today!